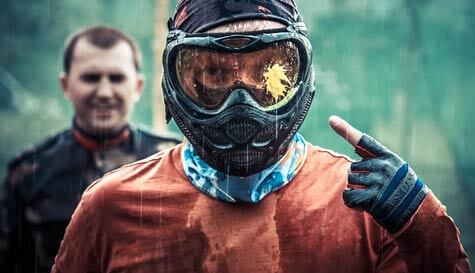 There's a reason you can always bank on paintballing as a sure fire stag do classic: it's epic! No other activity lets you and your best mates sprint around a forest, shooting each other and pretending you're in an action movie.

You'll need to remember that rich collection of action and war movies you've watched when it comes to shouting out one-liners and out of context quotes as you vault over obstacles, skid in behind cover, shoot from the hip and combat roll your way through a series of challenging game scenarios and battle arenas.

Everyone will have their moment out on the paint-covered battlefield. Whether you're the sharpshooter who carefully places each shot for maximum damage, the runner who charges into the fray and emerges untouched or the tactician whose master plan is the key to stag success, you'll each have a war story to tell down the pub for years to come.
Why not add...
Double the fun with a great deal when you add a second activity at this site. There are a number of stag vs stag challenges to choose from:
Segway Challenge
Stag Challenge Day
Our Liverpool stag party paintball centre will kit you up with full body combat overalls, pinpoint accurate paintball guns that fire as fast as you can pull the trigger and protective face masks that will ensure the groom makes it to his wedding, face intact, so you'll all feel like the real deal when you head out into the fray. Band together and unleash paint carnage on your rival stags.