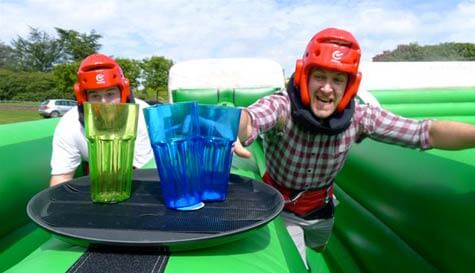 This is a sporting event with a wacky Liverpool twist. In fact to really get a handle on just what type of man madness this is; imagine a group of scousers were put in charge of the Olympics and did all the planning over a few "bevvies".

Having told each other to "calm down!", argued over who is the greatest Liverpudlian of all time (a tight contest between Stevie G, John Lennon and Ken Dodd) and after stopping off for a bowl of scouse (stew), what they came up with is perhaps the funniest and truest sporting competition known to stag-kind.

The Grand National
An homage to the greatest horse race of them all. But rather than the world's finest fillies, you'll be racing on Horsey Hoppers down the custom-made track. Gentlemen place your bets!

Matthew Street Madness
Home to the Cavern Club, Matthew St is one of the city's most famous addresses. In the summer months, it can be packed with revellers so carry beers can be a challenge. This event is the perfect training, you'll need to do a bungee run, with three drinks balanced on a tray. Who can get the furthest without spilling their drinks or being dragged back across the slippery floor?

Shoe Slinging
This is a Reebok classic of an event. Trainers are held in high esteem on the streets of Liverpool, they also make for great missiles, whoever can throw these white leather missiles with the most accuracy will scoop the points.

Penny (Bowling) Lane
You might be a sharpshooter on Call of Duty but how accurate will you be on a special bowling alley... while blindfolded. It's down to your teammates to guide you to hit the target so teamwork is a must.

Duelling Scousers
It's stag vs stag in a race to the pub. You'll fight with huge pugil sticks to be the last stag standing.

The Derby
No not donkeys this is the Reds of Liverpool FC versus Everton Blues (so yes, ok, a few donkeys). But there isn't a football insight, you'll be disputing matters in giant inflatable sumo wrestler suits. Who are the best team in Liverpool? There's only one way to decide... Fight!

You'll Never Walk Alone
A three-legged race with a hilarious twist.

Ferry Across the Mersey
A classic tug of war with a Liverpool twist. This is all about being the strongest, most united team in an effort to pull your opponents into the water.

Mersey Shower
Time for the groom to take centre stage as he's strapped beneath an icy bucket whilst facing a set of questions from the rest of the lads. If he gets them wrong or you don't like his answers... Splash!

If you're feeling hungry after all those games but still competitive maybe you should add our Stag vs Food challenge to your Liverpool stag do.