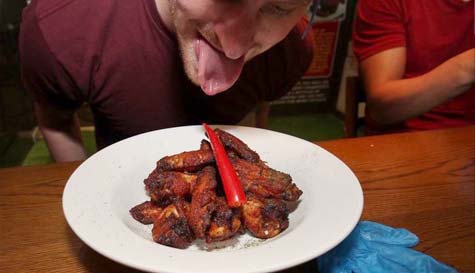 Every stag loves a good meal, a nice lager and some quality sports on TV, which is why we took all of those things and multiplied the portions to create stag heaven: an epic sports bar with every sport imaginable on display, gargantuan meals and 3 icy cold Corona's to wash it all down with.

Our Liverpool stag vs food challenge shuns the salads and goes for the most stomach-filling variety of dishes known to man in order to sort the stags from the boys. You'll get the choice of the following three challenges:
Hot wings - Take on 15 extreme hot wings. No pain, no gain as you chow down on these fiery bad boys. It's mind of matter, unless your stomach rebels!?!
Nachos - The mother of all nacho portions, you'll need to arrive hungry because you have seen nothing like this. A mountain of tortilla chips, drizzled with hot sauces, added chillies, and nacho cheese. It hurts so good!
Burger stack - O... M... G... It's a burger the size of a small planet! Layers of beef, bacon, cheese and sauce but if that wasn't enough, you've also got extra orders on the side. Good luck, you're gonna need it!
Whether it's fuel for a big night out on the town, or a relaxing remedy to a nagging hangover, this Liverpool stag do food challenge guarantees to leave even the biggest of lad appetites totally satisfied.