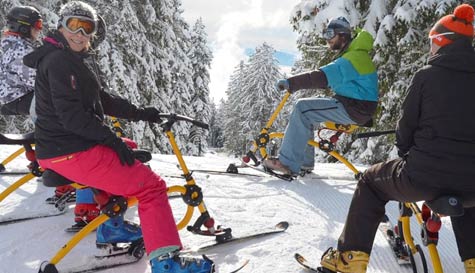 It really is as easy as falling off a (ski) bike. With the added bonus of watching the groom face-plant the snow.
Without doubt one of the best stag activities ever! You and the guys will be picked up from your accommodation and taken to the slopes. Here the friendly team of instructors will be waiting to greet you with a welcome shot to warm you up. You'll be issued passes and can also hire entire ski wear (recommended). Once kitted up it's time to take the ski lift to the top of the slopes and let the madness begin.
You can race down the floodlit slopes as many times as you like, you'll also have head torches if you want to go a little further. Ski bikes are essentially bikes with skis instead of wheels and with no pedals, gravity and the snow will do all the hard work for you.
There are also sledges to have a laugh on and you can set up your own stag races as you bomb downhill at roughly "Waaaaargh!" miles an hour being just about as un-grown-up as it's possible to be.
At the end of your session transport will be waiting to take you back to your hotel (10pm).
This really is a stunning activity and something you'll remember for years to come. Certainly one of our top picks for Ljubljana stags.