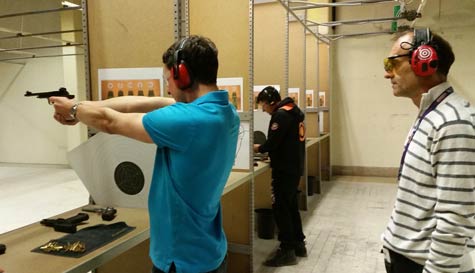 Take a group of hungover stags, drag them out of bed and put guns in their hands, what could possibly go wrong?
This is a truly epic stag activity. Back home in Britain the health and safety, hi-viz wearing kill-joys won't let you handle anything more powerful than a water pistol (even Nerf guns are frowned upon). But out here things are different, it's a place where men can be men, you can drink ridiculously powerful vodka and shoot astonishingly powerful guns. NOT at the same time, we hasten to add.
But this shooting range is something you can't do back home in Britain making it the perfect choice for your big weekend away. Each stag will get to shoot 3 guns at targets small calibre, 9mm and a revolver. Afterwards, you can all compare your targets and decide who is Top Gun and who couldn't hit Beyonce's bootie with a bazooka.

The groom will also get to shoot a shotgun. If the rest of the guys also want to get their fingers on these awesome pieces of firepower then it can be arranged (fees apply). Please ask our team for details.