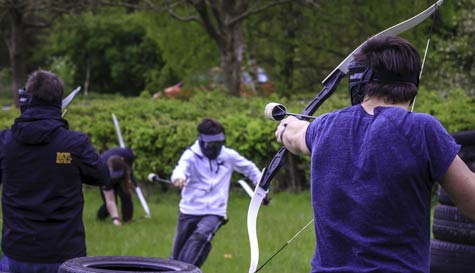 While paintball is indeed a truly awesome stag activity you can now get all the fun but without the need to pay for more paintballs because you shot all 250 in a blind panic! In Archery Tag players are divided into two teams, they will then do battle on a course of inflatable bunkers and other obstacles.

The aim is to try to be the first team to knock out the centres of a 5 spot target on their opponent's side of the field. Or if you're a bit more badass you can simply eliminate the opposing team which is much more fun!

Dodging the opposing teams' arrows and getting all Robin Hood you'll fight for honour, for friendship but mostly for a bloody good laugh. Dodge your opponent's shots or if you're really slick you can catch the arrow as it hurtles towards you and take out one of your opponents with his own missile. Because you're just that cool.

You'll soon be running firing and discussing tactics on the hoof like the real merry men that you are. You'll be looking cooler than Russell Crowe (and you won't have a dodgy Sherwood accent either). You can, of course, pick your own Friar Tuck from the group.

This is a great team activity that the guys will really get into, fast, active and with a fighting competitive edge that's sure to get all the boys laughing, ducking for cover and screaming their own bizarre battle cries "Eat my arrow you mother...!"