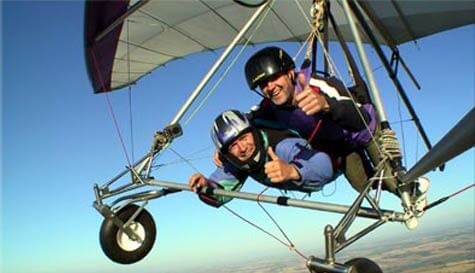 According to the movie Alien, in space no-one can hear you scream. It's pretty much the same with hang gliding, except your instructor will be there to hear every shriek. And shriek you will; you'll be flying at 2000 feet, face down. This is phenomenal, white knuckle action that should really feature 'balls of steel' as a requirement for entry!
But don't let the extreme nature of this London hang gliding activity put your stag party off. If you've never tried this awesome sport, then you're missing out. It's a fantastic ride from start to finish and the perfect way to inject your stag weekend with a healthy dose of excitement during the daytime.

You'll be towed up to 2000 feet by a Microlight in an ascent that is probably unlike anything the boys will have experienced before. You're totally out in the open on this one, once in the air, you'll be completely exposed to the elements. But you might surprise yourself with how chilled out things can get once you're soaring.

Up here, there are no engines, no traffic, no noise. Just man, nature and gravity (but don't worry about that). It's a unique flying experience that'll give you and the lads a thrill ride you'll never forget. You'll be able to soak up every last moment too as our experienced instructor guides you back to land while you take in some awesome aerial views of the landscape.

Our London hang gliding experience really is one of the bucket list that you'll be talking about for years to come. So if you're ready to man up, contact our team today for a hassle-free quote on one of the greatest adrenaline sports ever.