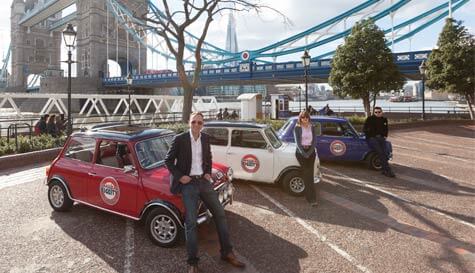 Sit down and strap in for a real slice of cool Britannia. You and the guys will be hitting the streets of one of the world's greatest party cities in funky, fined tuned, retro Mini Coopers, copies of the original The Italian Job cars ("You're only supposed to blow the bleedin' doors off!").
It doesn't get cooler than this on a London stag do. And stag weekends can be hard, there's just so much needs to happen, you want to enjoy a few drinks, torture the groom, do some stag activities, make fun of the groom, get some cool photos, pick on the groom and on top of all that you want to squeeze in some sightseeing. That's a big ask in just 24 hours (unless you're Jack Bauer) but this superb activity ticks lots of boxes.
You'll get great photos, you'll look as cool as ****, you'll also get to see the real London. Not only are the cars great looking, they're great driving. The small wheelbase and mighty little engines make them really nippy around town plus they can squeeze through gaps and into places the day-tripper coaches can't make it so you'll not be stuck in among the tourist crowds, dodging selfie sticks and back-packers. You and the guys will be looking cooler than Charlie Crocker (Michael Caine's character in The Italian Job). You'll be able to get photos of the guys in action, share plenty of laughs and plus there are plenty of ways to torture the groom along the way. But remember. You're only supposed to blow the bleedin' doors off!