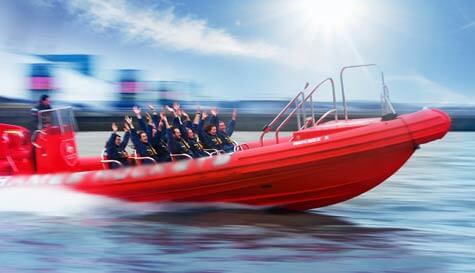 After a big night out or ahead of the groom's big night with the lads, you will be keen for adventure, therefore, we present the Ultimate RIB Adventure, a Rolls Royce of London stag do experiences, perfect for all of you who want something a bit extraordinary.
If a couple of the lads haven't found their sea legs yet or are feeling slightly tender the morning after the night before then this just makes things even better for the rest of you "Here Steve, is their skin supposed to be the same colour as the Thames?"

You'll soon be flying over the water as these formidable boats make light work of any water, cutting trough swells and bouncing over wakes and waves. You will be getting some air under the boat so this really isn't for anyone scared of the water. Essentially it's man up or ship out!

You will arrive at London Waterloo Millenium Pier and embark onto a RIB boat and start your journey, going from London Eye and back again via Canary Wharf in a 50 minute round trip. This is fast and furious stag action of the highest order!