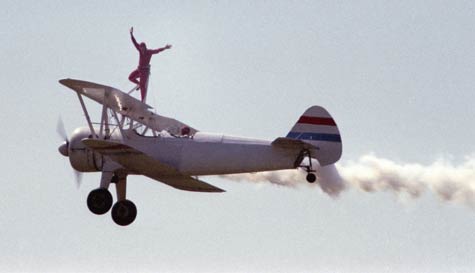 You've always been each other's wingmen, well now you can take it to a whole new level, thousands of feet above the ground in fact.

For serious daredevils this is as much fun as you can have on a plane (it's even better than joining the mile high club!) and what's more no one will tell you to put your seat back in the upright position or try and flog you overpriced boiled sweets. This is one HUGE adrenaline ride as you're trained by the professional daredevil flight team who'll teach you all the basics of wing walking before strapping you to the frame of the aircraft. Then its up, up and wahey!

You'll stand astride the top wing of a Stearman bi-plane hitting speeds of up to 130 miles an hour. This isn't for the more delicate wallflowers amongst you as you will be hitting serious G-force and there is of course no safety net. All you'll have is a bi-plane, some webbing and your safety clothes to protect you from the elements and anything else that might come your way. It's a day you, the groom and the rest of the lads will simply never forget.