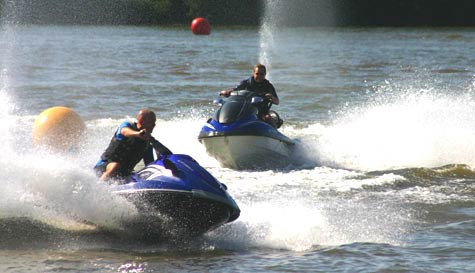 That's the way stag weekends work, taking every opportunity to make cheap jokes at the groom's expense ("It's what he would've wanted..."). Another vital ingredient is some epic sporting action and it really doesn't get much better than our Magaluf stag party jet ski racing.
Lesser stags will stick to dry land, they might hire a moped (yawn!) if they are feeling really daring they might go, go karting, but being the stag legend you are, you want more for your crack stag squad. And this is about as good as it gets.
You'll arrive and get your kit on, you'll need swimwear and each stag will also be given a life vest. You'll then have a quick safety briefing and learn the controls. So far, so good. You'll then take to the water like, erm, stags to water (?!?) as you get to grips with the high-powered machines. This is a designated riding area so there are no swimmers to dodge around, meaning you can crank up the revs.
Got the hang of it? Then it's time to add some friendly stag competition. You'll take it in turns to race around the course. Of course, while one stag is racing, the rest of the stags will be watching on, making judgments ready to give each rider both barrels once he's done (there's only one way to silence your critics).
You'll then have time to do some free riding. There's also a handy bar on-site, well we don't want you to get dehydrated. Ask our team about arranging a stag lunch for the guys.