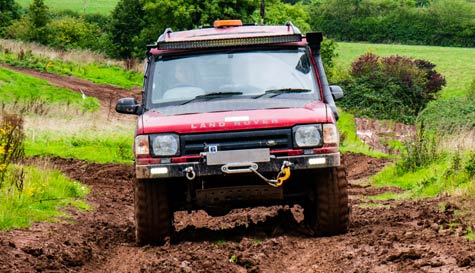 While some yummy mummies and footballer's wives might think a "Chelsea Tractor" is specifically designed for the school run and listening to Adele CDs, here at StagWeb we are under no illusion at to the true value of this fleet of epic 4x4 off-roaders...

You and the lads will be facing the ultimate in driving tests. Forget 3 point turns and parallel parking, you'll just need to keep these hugely powerful all-terrain beasts shiny side up and not hanging out of a tree.

After some initial instruction and safety tips, you'll try a few basic manoeuvres before being unleashed on the full course. An instructor will be with you at all times to make sure you don't end up having to swim to safety. They'll also be marking your driving skills over the massive range of extreme obstacles. And for added fun, the vehicle will be full of your fellow stags who'll be backseat driving as they await their turn behind the wheel, so you can expect plenty of banter and p*** taking. You could also award your own prize to the best driver and issue pint penalties to the loser.

You'll also gain some great skills and driving knowledge that will help you in rough driving conditions in all manner of vehicles.

So get ready for a full metal challenge that Mr Clarkson and the boys would be proud of.

Please note: Our Manchester stag do 4x4 driving is part of a multi-activity package with a minimum of 2 activities.