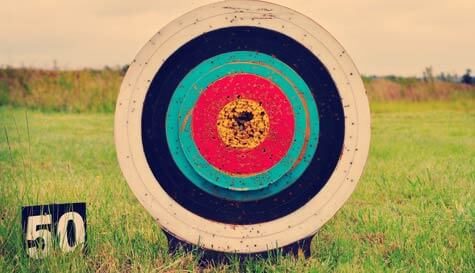 Ever wanted to be just like Robin Hood, but without the dodgy English accent (Russell Crowe) or complete lack of accent (Kevin Costner, Sean Connery)? Well grab your merry men, and head to Manchester. Although it's probably best you leave the green tights at home.

Arrows have been deciding important battles for years; Agincourt, Hastings, Lakeside. And now you and the guys can step up to the oche and let fly in this ancient, hugely competitive sport.

Our friendly and highly experienced instructors will be on hand throughout to offer guidance and assistance to help keep you pointing in the right direction and help you improve your accuracy. Once all the lads have got the hang of things you'll be shooting in a competition.

It's up to you whether you decide to shoot individually or mix things up by pairing the lads or splitting them into teams. It certainly helps to increase the competitive edge and get the banter going between the lads. Although do try to keep the banter friendly, after all, you're all holding ancient weaponry that in the right hands was able to pierce plate armour and make a right bolognese of the knight inside.
Why not add even more crazy stag challenges? Get a great deal on a second event at our Manchester activity site:
Ask our team for more details.
Archery QI
Henry the VIII was one of many monarchs to insist all young Englishmen were required, by law, to practise archery every week to help defend England from invasion.
Henry took things one step further though by banning football, which had become popular with young men skipping archery in order to play in local matches.
However, it's a lesser-known fact that Henry the VIII was the first man to own a pair of purpose made football boots.
Please note: Stags who are clearly under the influence of alcohol will not be permitted to shoot for safety reasons.