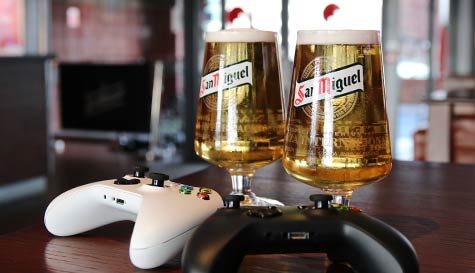 It's time to give the groom a kicking! No, not literally, but figuratively you can kick him up and down the video game pitch on a 15ft screen in your own VIP Gaming Tournament where you can play FIFA. It's all the laughs and action of football without having to run around. This makes this a great choice for an afternoon of stag laughs or a great way to begin a big night. There's even loads of great food and drink on hand (well we don't want the poor groom wasting away before you've all had a chance to give him a bigger spanking than a Real Madrid vs Crawley FC pre-season friendly).
No stag weekend is complete without some sporting challenges and this really does tick all the boxes. Sport, beer and food all in one stag-sized serving. Game on!
You'll play on an Xbox One in your own games pod. The pod comes with four controllers so you can play singles or doubles. You can set up your own tournament with a few friendly wagers or a stag forfeit for the loser/s. But being a champ is hungry work so we've arranged a burger and beer for all the players, as well as your own personal waitress.
Burgers - All burgers come with fries
Cheese Burgers - Quarter pound burger with salad and Emmental cheese
King Kong Burger - Two quarter pound burgers with salad, Emmental cheese, bacon & onion rings
Mexicano Burger - Quarter pound burger with jalapenos, tangy tomato salsa Emmental cheese & salad
Italian Burger - Quarter pound burger with Emmental cheese, tangy salsa & crispy pepperoni
Rodeo Burger - Quarter pound burger with Emmental cheese, onion rings & BBQ sauce
Chicken Burger - Chicken breast fillet burger, mayo & salad
Spicy Chicken Burger - Chicken breast fillet burger, paprika, chilli, mayo & salad
Drinks
Mahou (pint)
Hop House 13 (pint)
Tuborg (pint)
San Miguel (pint)
Guinness (pint)
Carlsberg (pint)
Somersby (pint)
Tetleys (pint)
Glass of wine
Single spirit & mixer
Any soft drink
Please note; The game pods hold 8 guests, so groups of 9+ will have 2 game pods side-by-side, 16+ 3 game pods etc.