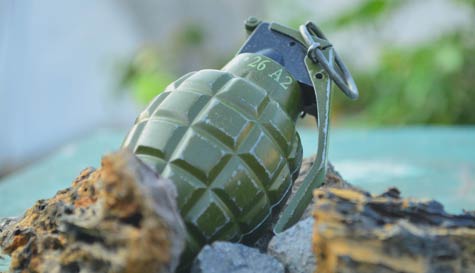 Competitive grenade throwing?
It's the most extreme stag do sport on the planet!
Some stags play paintball. Some stags have little dare games ("Ah bless, call the hen party..."). But real men? Real men are trying stag party grenade throwing!
A stag do game of darts? Not on your watch, you're introducing the guys to the most explosive stag game ever. And it involves real hand grenades.
Just to be clear, these are training grenades so have an almighty "bang" but don't spit out deadly shrapnel. They are still pretty lethal in the wrong hands, so a team of instructors will be on hand and strict rules adhered to (stags cannot be under the influence of alcohol, stags may be asked to leave the group if safety is considered an issue).
The session begins with basic training (which bit to pull out, which bit to throw) and safety ("Do not put a grenade down the groom's pants!"). You'll then undergo mission training and learn how to clear a bunker.
That's all well and good but you're stags. You need some healthy competition to fuel the rest of the day's banter/insults. And that's why we've created the game of Grenade Boules. You know, the genteel outdoor game you see old men playing in market squares on the continent... Just like that. But explosive!
This is the most extreme stag do sport ever. Come and have a go if you think you're hard enough.