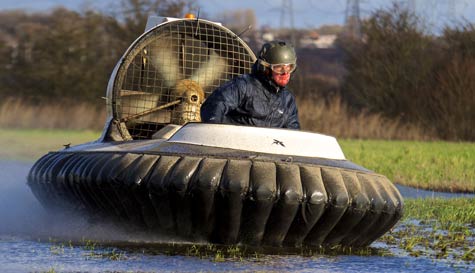 High-speed racing without wheels or brakes is normally ill-advised, but our Manchester stag party hovercrafting is an exception, and it's truly epic. Forget everything you know about racing and learn how to pilot these awesome creations, throwing your body weight around the craft as you tackle every corner in an addictive attempt to keep bettering your previous times.

Hovercrafts have all the composure of Johnny Vegas at an all you can eat buffet. Hilarious to watch and really testing to drive these wind-powered monsters are one of the best racing challenges known to stag-kind.

Leave any notion of taking a racing line or pulling off some slick handbrake turns behind you: those ideas won't help you here. With no brakes and a vehicle that's tricky enough to keep in a straight line, you'll want to spend the first couple of practice laps perfecting the art of not spinning out at the first corner.

Our Manchester stag do hovercrafting venue is home to an awesome race track that makes use of both land and water terrains for that awesome James Bond feeling; you might not look as suave as 007 when you slide off the track. These crafts are hard to master but reward the patient and careful more than the bold and foolhardy; expect a lot of wipeouts from your lot. Your confidence will grow soon enough so that when it's time to start setting times you'll feel like a stag party hovercrafting pro.