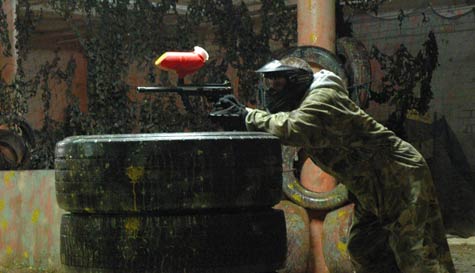 When else do you get the opportunity to sprint around a gigantic indoor arena, screaming action movie one-liners and shooting your mates without breaking any laws? That's why paintballing is a sure-fire stag do classic and is always one of our most popular activities. It's epic, and our Manchester indoor paintball venue offers plenty of proof for that.

Indoor paintball is not wildly different from the tried and tested original, but it's a twist with bucket loads of positives. Don't get caught out because your hands are too cold to pull the trigger, stop kneeling in boggy puddles and no longer fall on your backside because of some mud: the conditions are controlled making for action-packed paintballing carnage without any of the irritating extras offered up by Mother Nature.

Additionally, the indoor setting also makes pyrotechnics, gunfire and lighting more intense and shocking; your time in the combat zone will be as atmospheric and realistic as you'd ever want it to be. With this being the largest indoor paintball venue in the world, expect plenty of space to sprint, crawl, combat roll, dive and vault around in, not to mention a range of purpose-built structures and obstacles to take cover in and behind.

Fancy a twist on a bankable stag do winner? Then get the lads together and add stag warfare to your Manchester stag do.