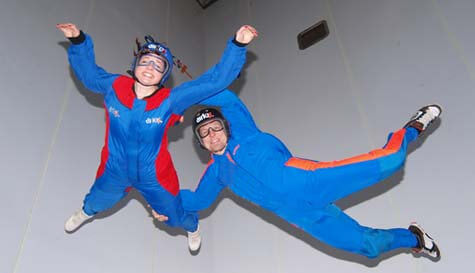 Manchester: home of Oasis, two of the world's biggest football teams, and one of the best indoor skydiving sites out there. If you're seeking a rush that would delight even the biggest adrenaline junkie, then look no further. For those unsure of what it consists of; basically it's skydiving for those that don't fancy leaping out of an aeroplane as you are suspended above a jet engine in a vertical wind tunnel!

With wind speeds of up to 120 mph (yes you did read that correctly!) our Manchester indoor skydiving facility will let you experience all the excitement of the equivalent of freefalling 12,000ft. Better yet, there is no need to worry about whether your parachute is going to open! Don't tell the bride we said this, but it's probably more fun than the wedding day itself!

If you want to guarantee that everyone remembers your Manchester stag do you need to try indoor skydiving, probably the best way of celebrating the end of singledom! If you have ever dreamt of flying but jumping off a cliff or out of a perfectly good aeroplane isn't your idea of fun, this is your big chance!