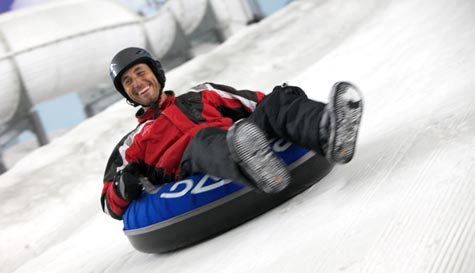 Yeah, you're cool, you're DAMN cool. You're also ready for some big laughs so hit the slopes and you can have it all.
You can try luge on the twisting, turning, hangover torturing luge run. Get downhill fast on the sledge run or totally out of control on the doughnuts. Well yes, you could do and be adults somewhere but who wants that? It's a stag do, this is exactly the kind of place that was invented for stag weekends.
Plus there's the added bonus of hopefully catching the groom face-planting the snow. Yes! Straight to YouTube for his special moment of fame. This is one of only a handful of snow domes in the UK, with real snow! Yes, that's how cool it is. But strictly no snowball fights or snowmen (sorry, health and safety, etc).
But there are sure to be plenty of great wipeouts among the guys. But you won't need a change of clothes, you'll each get given trousers, jackets and boots to keep you warm and dry. Straight after the auction, you can hit the bar for a beer and pizza. There's also an ice cream bar.
Feel the thrill of the doughnuts by sliding down the special tubing lanes in a huge rubber ring or get speedy on the sledges, it's a chance to regress and act like the big kids you really are. And yes it's also a pretty cool hangover cure. Obviously we have absolutely no medical science to back that up but you can rest your head on the nice cool ice. That's got to be a good thing right? The adrenalin-packed fun should take care of the rest. Have fun and get crazy!