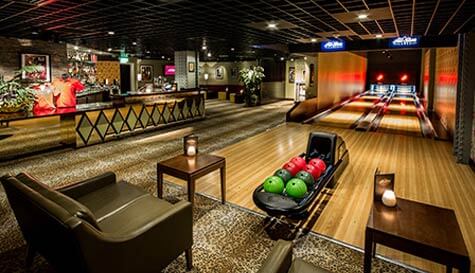 This isn't your average night of bowling. The super-stylish bowling alley really adds to the atmosphere of what is a great way to warm-up to a great night out.

You'll kick start the evening with some superb hot Southern-style cooking. This is real man food with big flavours, plenty of meat and plenty of hot sauces. There is a great menu to choose from which also has a fantastic range of vegetarian options. Your table will be reserved for you and you can even pre-order so all you'll need to do is turn up and tuck in. It's a two-course meal (main plus starter or dessert) plus a drink each (cocktail, beer, wine or soft drink). Check out the menu below for more details.*

Once dinner is over it's then time to get competitive. This funky bowling alley has a great sound system if you want a suitably Americana, Tarantino-esque soundtrack, which really would fit the mood of the venue. There are 8 lanes in the main hall, separated in pairs so you can have your own playing area depending on your group size.
Sample menu
Starters
Chicken wings (BBQ or hot)
Popcorn squid with garlic mayo
Pulled salt beef
Chicken Caesar salad
Quesadilla (chicken or veg)

Mains
Slow-cooked Texas beef chilli
Roasted veg & been Texas chilli (V)
Buttermilk fried chicken burger
Monterey Jack cheeseburger
Sweet potato & goat's cheese stack (V)
Astoria salad with grilled halloumi (V)
Hot pepper chicken stew
Buttermilk fried chicken & jerk gravy

Desserts
Choc chip cookie ice cream sandwich
Blueberry cheesecake
Chocolate & rum raisin brownie

* Please note; menus may vary seasonally.