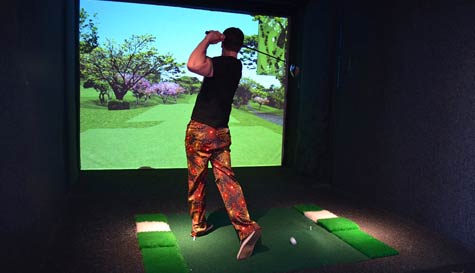 This is just about as close as you can get to some of the world's greatest courses without getting chased off by groundskeepers and security guards. And what's more, you don't even need to leave the bar!
From St Andrews to Pebble Beach, you can take a virtual tour of championship courses without having to head back out into the Manchester rain to get there. It's the perfect way to get your Manchester stag do in full swing. The course and gameplay are stunning, especially with the 15ft screen and perfect for getting some real stag competition going. You can even set your own friendly wagers or stag forfeits.
Each of the guys will also receive a burger and beer (well, it can be hard work, playing golf and drinking and we wouldn't want you wasting away!) and if the competition still hasn't reached fever pitch you can add more connect gaming options such as Bowling, Skiing, Dancing, FIFA, Call of Duty and more (please let us know in advance to avoid disappointment).
Burgers - All burgers come with fries
Cheese Burgers - Quarter pound burger with salad and Emmental cheese
King Kong Burger - Two quarter pound burgers with salad, Emmental cheese, bacon & onion rings
Mexicano Burger - Quarter pound burger with jalapenos, tangy tomato salsa Emmental cheese & salad
Italian Burger - Quarter pound burger with Emmental cheese, tangy salsa & crispy pepperoni
Rodeo Burger - Quarter pound burger with Emmental cheese, onion rings & BBQ sauce
Chicken Burger - Chicken breast fillet burger, mayo & salad
Spicy Chicken Burger - Chicken breast fillet burger, paprika, chilli, mayo & salad
Drinks
Mahou (pint)
Hop House 13 (pint)
Tuborg (pint)
San Miguel (pint)
Guinness (pint)
Carlsberg (pint)
Somersby (pint)
Tetleys (pint)
Glass of wine
Single spirit & mixer
Any soft drink
Our Manchester stag party VIP golf simulator is exactly the way the game should be played, there's food, drinks and absolutely none of that unnecessary walking business. You won't need to go climbing through the rough, get bogged down in bunkers or wade into water hazards, simply hit the ball and then take your place again on the next stroke.
Please note; The simulators hold 8 guests, so groups of 9+ will have 2 simulators side-by-side, 16+ 3 simulators etc.