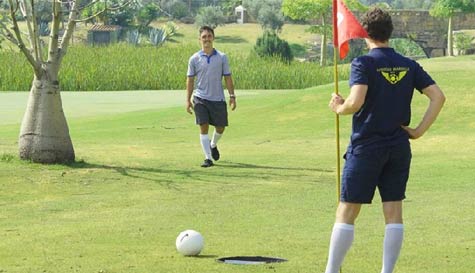 What if you could combine two of the world's greatest games and play them on a full-size pitch/course? Welcome to the world of footgolf, a superb mix where you'll need to combine the inch-perfect skills of Beckham, with the calm under pressure nerve of McIlroy and bring you're A-game to the course.

How does the game work?

Footgolf simply does what it says on the tin. It's a conventional round of golf played on proper golf course (therefore you will need to stick to normal golf dress codes, coloured shirts or polo shirts, no jeans, beachwear or ripped clothing).

You'll 'tee off' at the usual points of the course and drive your balls up the fairway. However, there are no clubs and no golf balls. Instead, you'll need to put your best foot forward and drive the ball towards the green with well-played football shots.

As in golf, the ball must be at a complete standstill before it is struck. The usual rules of tampering, lie, out of bounds all still apply as does golfing etiquette (the man furthest from the pin always plays first, opposing players lift the flag, anyone dressed really badly gets a ribbing from their mates, etc).

The greens contain football-sized holes complete with flags. Can you get enough lift to hit the wood/flag work to get a hole in one? The game is the perfect relaxing way to really get some competitive spirit going with the lads on the Costa del Party.