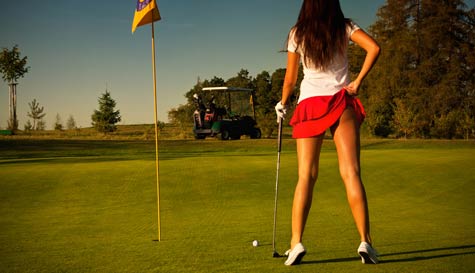 The 'Costa del Golf' has some truly spectacular courses for those that like to swing a club in anger. Nine holes of friendly competition could be the perfect cure for the excesses of the night before.
The Costa has more than its share of celebs and millionaires so it naturally follows that they'll be a few golf course around. But these aren't your average swing and swear, gravel bunker lined course you sometimes find back in Blighty. These are beautifully manicured stretches of pristine fairways, impeccable greens and challenging hazards. And let's face it, every good stag weekend needs some sporting competition.

Even if you're all feeling bit bleary-eyed and haven't seen the groom since the third round of tequila shots ("...he can't have gone too far. Can he?!?"). With or without the groom (although do try not to lose him please guys) this is a fantastic way to walk off the hangovers, share some typical stag banter/sporting insults settle or create new sporting rivalries and maybe set a few Stag Forfeits.
You'll be picked up from your accommodation and taken to the course, here club and buggy hire will be taken care of while you slip into your Pringles and plus fours. Having set your pairs or fours you can then create your own Costa del Golf Stag Do Open.
Nine holes are the perfect length on a stag do, it's not too long that any of the guys risk being away from the bar for too long (we don't want you getting dehydrated), it's just long enough if you've got any golf virgins with you, plus no matter how bad the hangovers are no one can get too frustrated over nine holes.
Golf is hugely popular so please book early to get the best tee times.