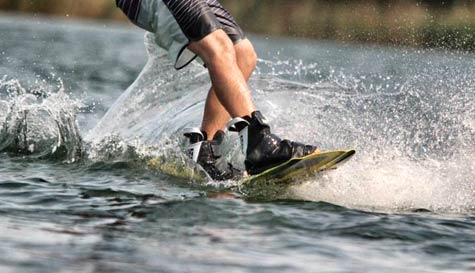 If you're in need of one of those perfect days, relaxing by crystal clear water, laughing with your mates, enjoying top tunes and throwing yourselves into epic activities then this is definitely it!
Waterskiing is a fantastic sport and it's a lot more accessible than you probably thought. This fantastic site works on a cable system so there is no wake from a boat making it much easier to get through the water and find your balance. You'll soon be trying tricks and giving it full beans as you pass the rest of the open-mouthed stags who so far will only have got a face-full of water.
The superb site has everything you need for a top day out. There is a great cafe with a good range of bar snacks and hot food (burgers, etc). The tiki bar serves ice-cold man cocktails as well as the required amount of cervezas. And there is a great sound system with top tunes to create a laid back party vibe. You can hang out until later if you're in a sunshine kind of mood. You'll find a swimming pool, sun loungers and plenty of smoking hot senoritas soaking up the sun.
Back on the water, you can choose between kneeboards, skis, mono-skis and boards to help get you started and there are 5 cables on what is one of Europe's premier cable ski sites.
Wakeboards are also available (at an extra cost).
You can also try Paddleboarding. Ask our team for more details.