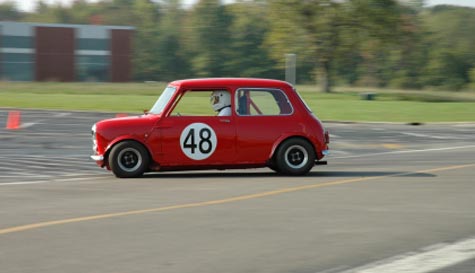 Ever since the Italian Job (the original of course - we're still in shock about the remake!?!) every car-mad British male petrolhead has longed to race a Mini round the streets of Turin. Unfortunately we can't give you Turin but we can certainly arrange for you to race Minis at two of our most popular destinations.

Our fleet of Minis have been finely tuned to provide as much power as possible and have also been fitted with full race harnesses and roll cages. The race circuits vary between the locations from a 3/4 mile dirt track in Bournemouth to a tarmac speedway in Bristol.

This is full throttle action in possibly the most iconic British made car of all time. You'll be kitted out with helmets, gloves and race overalls before the marshals run over the controls with you. Each stag will then go up against the clock in your own Top Gear style stag challenge while the rest of your fellow stags look on admiringly and give you hearty sporting congratulations at the end of your laps...

Who are we kidding? The rest of the stags will of course be eager to take the "petrol" as much as possible and slaughter you for your every turn, oversteer or cut corner. Banter will certainly flow but ultimately there will be only one stag champion and time will tell who is stag 'Stig' and who will be bringing up the rear as 'Captain Slow'.

Gentlemen... Start your engines.