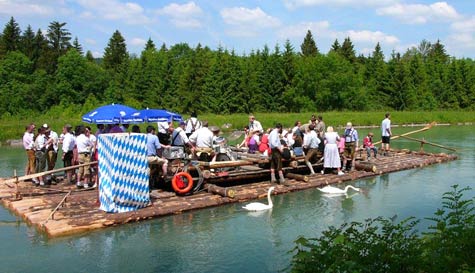 If you and the guys are looking for something a bit different and want a weekend packed with laughs, then it doesn't get better than this!
Imagine a relaxing beer garden, your own band, BBQ, beers... Now put it all on water, float it down the river and throw in a few river slides. Yeah, it's all kinds of stag madness and utterly brilliant.
The raft itself is constructed of giant spruce trunks, lashed together. Slightly crude, it's as if all 22-tonnes of it has been whipped together for a bet. The raft has benches and two rudders (front and rear) to help navigate, which will become slightly more important as the trip continues. But more of that later.
As you step aboard you'll notice the live band, because being totally cool party guys you can't be seen heading down a Bavarian river on a giant raft without your own house band, natch. There'll also be a BBQ and Bavarian beer. And it still gets better...
The raft will stop off at a great riverside restaurant for a spot of lunch. Then on the way back, you'll have to navigate a slide, as the boat drops 18 meters of altitude down a 345-metre slide at a speed of up to 40 km/h.
Suitably mad, utterly brilliant, it's the kind of journey that Munich stag weekends were invented for.