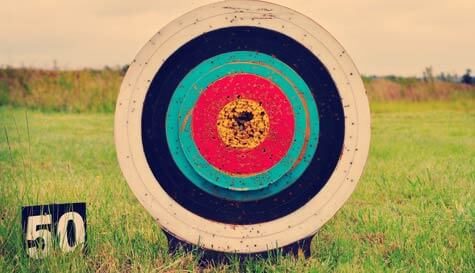 You'll need balance, poise, accuracy, vision, timing, action and hand to eye coordination. Not always something evident in a group of potentially hungover blokes. But this great competition is a great leveller and something all the lads will enjoy. It is after all in our blood.

Englishmen have been settling disputes with arrows for years. Sites such as Hastings, Agincourt, Crecy and Lakeside are all renowned for great battles. So like those warriors of old... "Let's. Play. Darts!"

You'll meet your instructors who will give you a quick safety briefing before taking you to the range. The whole group will then be coached in the basics like making sure you aim the pointy end. After some practise shots it will then be game on.

To up the ante and get more competition going we'd recommend you shoot as pairs or in teams, which will soon get even more banter going. Or you could introduce a little wager with forfeits for the losers.

Archery QI
A number of Kings required all Englishmen by law, to practise archery every week so they could be called upon in war.
Henry the VIII took things one step further though by banning football after young men started skipping archery in order to play in local matches.
However, it's a lesser-known fact that Henry the VIII was the first man to own a pair of purpose made football boots.
English longbows did decide a number of important battles including Agincourt where the English were heavily outnumbered by the French.
An arrow from an English longbow could pierce plate armour.