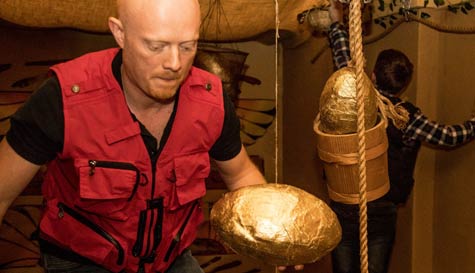 If you're looking for a totally new kind of challenge for the big weekend then our Newcastle stag party escape room is the perfect way to really put the guys to the test and make them walk like an Egyptian (little joke for all your Bangles fans... [silence] What? No one?).
The premise is simple; you and the guys will enter a room of your own free will, once inside the door will be locked shut behind and the challenge begins. You'll have just 1 hour to escape or it's "Game over". Permanently.
Inside you'll enter the Tomb of the Egyptian pharaoh, King Tut. Trouble is old 'Tutty' didn't really want any visitors to his final resting place, and he certainly didn't want anyone getting out alive. So he had his cunning engineers, build in a series of tricks and traps for unsuspecting suckers (that could be you).
To make it through the tomb you'll have to beat a series of mental, physical and skill challenges, complete each test and you'll earn a 'clue sphere', collect enough spheres and there's just a glimmer of hope that you might make it out in one piece. To be honest we're not holding our breath but then again you might surprise us.
So, come and have a go if you think you're smart enough! Add escape game to your Newcastle stag do today!