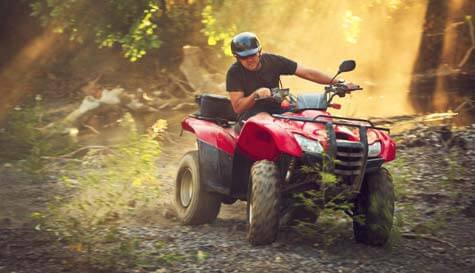 Stag parties are one of the few times where you get to bring all the boys together for some class activities, but it's not easy to fit everything you want to do into the limited time that everyone has. It's for that reason that multi-activity days were created, so you and your mates can fit all that adrenaline pumping stag carnage into a single, absurdly action-packed day of stag vs. stag competition.

Our multi-activity day has an epic selection of activities for you to create an epic Newcastle stag do. Activities include:
Paintball - multiple arenas, a huge range of obstacles, and semi-automatic paintball guns combine to give you and the lads an intense, immersive full-on battle zone experience, pitting you and the lads in teams against one another... or all against the stag, if you're feeling nasty.
Quad Biking - you'll be blasting around the countryside in the all-powerful, all-terrain Yamaha Grizzly quads, roaring up sharp hills, down steep descents, and through a whole lot of mud.
Mud Buggies - if possible, eve muddier than the quads, and with a competitive element too.
Clay Pigeon Shooting - from shotguns to semi-automatics, the lads will love their chance to get their hands on some real weaponry and aim high with our clay shooting session. Suitable for lads of all ages, it's also intensely competitive.
Archery - perfect if you liked the idea of clay pigeon shooting or paintball, but felt they weren't quite archaic enough.