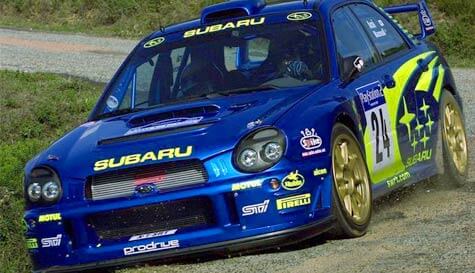 If there is one thing that unites stags more than anything else (apart from beer, not wanting to end up on YouTube "Fail" montage and ripping the p*** out of the groom) then it is most definitely a need for speed.

High speed competition has been a staple part of stag party gatherings since Dick Turpin told his best man "Well I say Ramsbottom, your horse looks a bit of a lard-arse mate!"

But things are different these days and the high-tech, suped-up, race-spec rally cars you'll be driving on this session are awesome! In fact the Rally Driving Experience is an unforgettable adrenaline fuelled day you'll be talking (and arguing) about long into your evening's pints and beyond.

Complete with expert tuition from professional drivers, you and the lads will have the chance to put your driving skills to the test and get behind the wheel of a kick-ass rally car. You'll learn top techniques to tame the race tuned machines as you cover ground that will switch between road and gravel. Each stag will have 3 separate test sessions designed to teach you the essentials. This includes elements such as hand brake turns and controlled opposite lock slides.

As a finale, you will then swap places and become the instructors co-driver - and hold on tight, as you will be given the thrilling experience of completing a 'hot lap' (or as it should rightly be called the hold-on-tight-kiss-your-loved-ones-goodbye-and-try-not-to-cry-lap).

Then it is time for the lovely people at the centre to put a brew on for you lads as you are debriefed. As well as discussing the experience, you will each receive a certificate of achievement for the day - a great memento of such a mammoth, epic day.