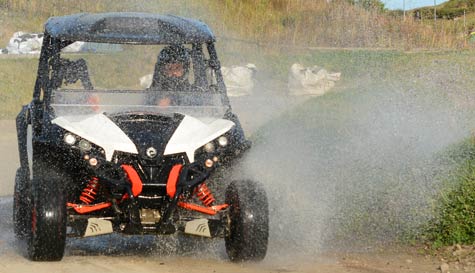 Can't choose between some of our amazing activities in Newcastle? You don't have to! You can kick ass in our Ultimate Stag Day experience, with 3 activities packed into one epic day of serious stag action.

It's time to separate the stags from the boys...
RX Buggies - The most high powered RX buggies known to stag-kind. 1000cc of growling off-road beasts that will power over, round or through pretty much anything in their way!
Paintballing - Set in a World War II-style arena, this is perfect for fans of Call of Duty. With sandbag trenches, gun positions and machine-gun nests, it's pretty close to the real deal. As an added bonus, you'll have an extended paintball session, with 2 hours of action and 100 paintballs included.
Archery and Tomahawk Throwing - Who has deadly accuracy and which of the stags throws like a girl? Only one way to find out...
Lunch included
You'll be going head to head with your fellow stags as you battle it out on three fronts; RX buggies, paintballing and archery/tomahawk throwing. It's then just a matter of getting the lads together to do battle, you can set prizes for the winners and forfeits (or pint penalties) for the losers. And seeing as a stag army marches we'll even arrange lunch for the lads to keep them well fed.