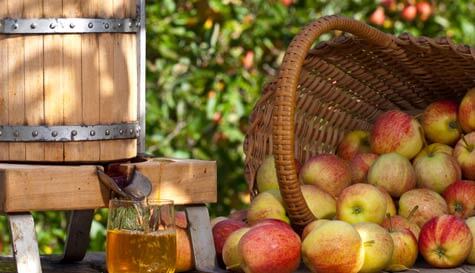 Oooh arrr! Scrumpy fans heading to the land where scrumpy is considered to be almost a spiritual experience will surely be keen to try a few local drops of England's amber nectar. And they are in luck, this fantastic tasting experience will not just give you a few simple samples but also give you an overview of exactly how the different strengths are created and just what it takes to become a master cider brewer, Yes! You could go home and start brewing your own!

You'll get a fascinating guided tour of the press house, bottlery, cider museum, distillery, cellars and jam kitchen... and then to make the session even more memorable, you will each get to experience a wonderful ride around the orchards of the site, on a 1950s Fordsom Major tractor.

Cider tasting is a real gem of an activity - and also a good way to start the day off with a little cidery hair of the dog if any other lads are feeling fragile. In recent years the popularity of cider has soared throughout the country, and the West Country is particularly famed for its speciality for the best cider out there... so getting up close and personal at this major cider farm is an unmissable way to spend a blissful stag afternoon.

Suffice to say, this is also ideal if you have a group of mixed ages, as it suits everyone from your new father-in-law to your best man! Put simply, this boozy session of indulgence is an absolute smash-hit.