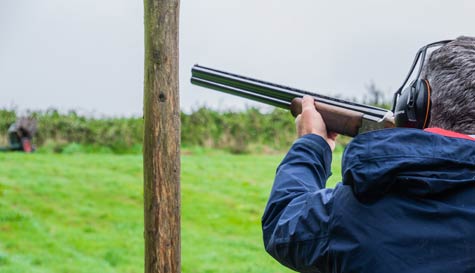 Our Newquay stag party clay pigeon shooting site is set in 50 acres of stunning countryside. Whether you're an experienced shot or struggle to slam dunk your waste paper in the bin, clay shooting is suitable for all levels of ability and you're guaranteed to deliver on all fronts. Our fantastic 50-acre site provides the perfect backdrop for your session with breathtaking views of the Cornish countryside all around.

For newbies our Newquay stag weekend clay pigeon shooting is a massive adrenaline buzz as you give shout "Pull!", hear the trap release, get the gun on the target, slowly squeeze the trigger, feel the massive recoil and see the 'bird' turn into a cloud of clay dust.

12 bore shotguns, cartridges and safety equipment are included (please don't bring your own shooters, it makes the instructors nervous when you start unwrapping uzis) so that you can be sure of a great time and one to one training from the fully qualified instructors means even those firing for the first time, will soon be plucking clays from the sky left, right and centre by the end of the session. Clay shooting is a great way to add some great stag competition and banter and also decide which stags will be paying pint penalties later in the day.