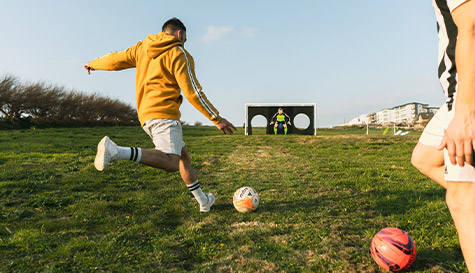 Footgolf is an epic mash-up of two of the greatest sports this planet has ever seen. Think golf but with a heftier set of balls (oi, no giggling at the back!). Following your standard rules, the aim of the game is to boot your footballs into these enlarged holes in the fewest amount of shots. It is (or, at least, it sounds) as easy as that. Tee off and have at it, gentlemen!
Newquay stag party Footgolf is a hilariously-fun, competitive activity which sports-loving stags will love. You and the boys will take on nine holes, each one weirder and wackier than the last. Attempt to chip, dink, Panenka, diving header (maybe not) or scorpion kick your way to victory as you battle it out to try and get the lowest score loser buys the first round down the pub!!
The rulebook
The ball must not be moving when you strike it
Tee off from behind the line
Wherever the ball stops is where you play from
One at a time, gentlemen!
Foul-play should be penalised (an extra shot down the boozer?)
The furthest from the hole plays first (because they're obviously useless)
Max 10 shots per hole
Now, this is a stag do, after all, fancy dress isn't just allowed, it's actively encouraged. So, don the chequered golfing trousers, the visors and hit the course. "Fooorre!"
Footgolf has exploded on the scene in recent years and for good reason, it's epic! However, just because these two sports just happened to go beautifully with each other it doesn't mean others do, trust us, we found out the hard way! Rugby Ice Hockey was an absolute bloodbath and the less said about Synchronised Boxing the better.
Fancy making your epic Newquay stag party Footgolf even better?! Upgrade your package to include a delicious Cornish pasty. Well, you are in Cornwall after all. Book today!