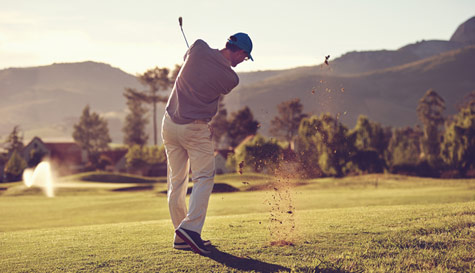 Golf is a classic stag party activity, for good reason too. It's a relaxed but competitive action perfect for you and the boys to get stuck into after having just a little too much to drink the night before. With our golf stag party in Newquay, you'll be playing on one of the most stunning courses in Cornwall. Home of the number one pitch & putt course in the country, this course is perfect for stags that have never touched an iron before as well as being able to challenge even the most seasoned golf pros to the max with its epic cliff-hanging 17th hole. This really is something that you and the lads won't want to miss.

After arriving, you'll collect any gear you need before heading off on this 18 hole course where you'll finally get to channel your inner Rory McIlroy. But it won't be as easy as just hitting the thing, it'll take all your ability with a club to get around this challenging course as quickly as you can to make it to the promised pint at the 19th hole that you'll certainly deserve after mastering this course.

Our Newquay stag party golf experience is a must for stags looking for a relaxed morning after a heavy night out on the town, but are still also keen on knocking their mates down a few pegs. With its awesome views of Fistral Beach and the Headland, this course couldn't be more perfect, and there's always the possibility of watching the groom completely fluff a shot and end up face first in a sandpit...