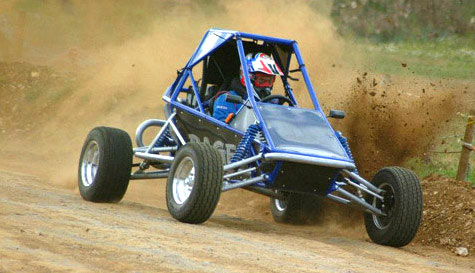 If you're looking for epic high speed stag action with a competitive edge then you won't find anything as fast and furious as our epic Nottingham stag party off road karting.
"Some say the Stig came here and cried like a big girl. All we know is, it's awesome!"
After a quick safety briefing, you'll get behind the wheels of 400cc Honda off road karts and get to know the controls. It's then out onto the 730m specially designed track that really will test your driving to the limit. These hybrid karts/buggies will chew up and spit out any terrain like Jeremy Clarkson with a Green Party manifesto. The handling is epic but does take getting used to, but you'll soon be fishtailing, power sliding and testing your Calvin Kleins to the max.
Dirt Buggy Safari
Test your driving skills to the max as you head over an extreme course of humps, bumps and other high-speed obstacles. Each stag will have a full 20-minute wheel wrestling workout on this gruelling track.
Dirt Buggy Time Trials
Ideal for those competitive groups, you and your fellow stags will race against the clock to set the fastest lap time on the custom-built track. Each stag will have 2 practice, 2 timed and 1 finishing lap. The winner will take home the stag trophy.
Why not add...
Why not take advantage of the other awesome activities at this multi-activity site, such as
4x4 Driving
,
Quad Biking
or
Clay Shooting
? Please speak to your account manager for more details.