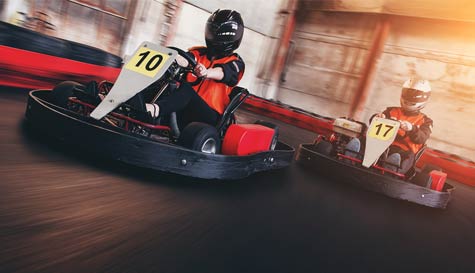 At our go karts stag party in Oxford, you're sure to have a wheely good time. It's fast, furious racing fun. On our Oxford-based track, you'll see for yourself that these innocent-looking karts can become serious track toys in the right hands, burning through straights at butt-clenching speeds when you're this close to the tarmac. You'll also have plenty of opportunities to throw the kart around twists and turns as well as demanding hairpin bends that'll challenge you and the lads to the max as you finally settle that age-old argument over which stag is fastest on four wheels.

There'll be no room for arguments either with this tracks computerised lap times that'll let you know who the real speed demons are and who's still asleep at the starting line. This is easily one of the most authentic racing experiences around and is the perfect opportunity to tear up the tarmac before heading off for the big night ahead.

This go karts stag party in Oxford is a must for stags looking to inject their weekend with some adrenaline-fuelled, wheel to wheel action. And with an authentic podium finish with your own bottle of bubbly to drench the lads with, it's going to provide laughs that are as big as the thrills of flying around this 350m track. Plus there's always the chance of running the groom straight into the tyre wall!