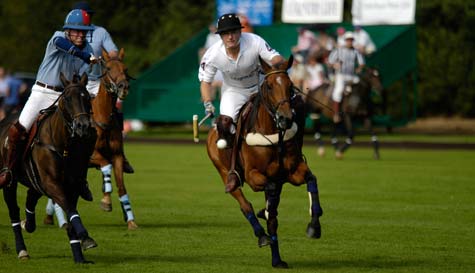 From the Prince of Wales himself to the lowliest Duke in the realm, every aristocrat can enjoy a rousing game of polo on his stag weekend - just ask the Made in Chelsea cast. Even if your mates don't have blood as blue as that of the highest echelons of British society, there's no need to throw your monocle on the ground in despair just yet.

Fast-paced, energetic and competitive, polo might be the sport of kings but it's also just a sport, and any athletic and active men will appreciate the combination of physical strength and finesse needed to succeed at the game - think of it as a bit like golf, except without all the boring walking bits and a lot more charging around on horseback.

Oxford, home of the toff (and the less-scruffy-than-average-student), is the perfect city to give polo a try - and our Oxford polo site is one of the best in the UK. It's also got fantastic instructors to teach you all the basics (like which end of a horse is the kicky bit and which end bites) so even polo newbies that have never so much as sat on a pony in their lives will be 'tally-ho'-ing with best of them by the end of the day.

If it's good enough for our "arry, the Prince of Party then it's got to one to tick off the bucket list and what better time than during a great stag do? In fact, it's brilliant but mad once in a lifetime activities like this that stag parties were invented for!