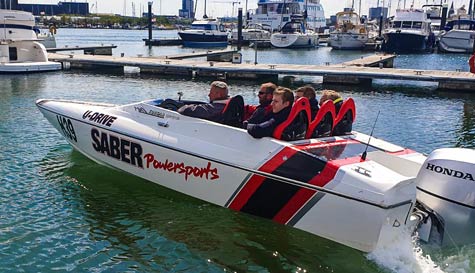 If you're looking for a truly testosterone-fuelled, adrenaline-pumping day with the lads then look no further than our powerboating grand prix! Ideal for throwing about and testing your driving abilities to the max, these powerboats give you the true feeling of command and unrivalled power.

You'll all feel like true powerboat racers as you adorn the Powersports racing team kit and safety gear before getting to try out all the different crafts. The Honda Formula 4-Stroke championship is the largest, most exciting offshore powerboat series in the world and you and the lads will get to test out the boats that make it the best series of its kind!

Once you've got the blood pumping in your veins and you're all high on adrenaline, you'll go to an offshore circuit to compete in the 'Honda 150 Challenge' where you'll be driving the uber juicy powerboats round an offset rectangular circuit. Each of you will get to go round 3 laps, pushing you to your absolute limits; wipeouts will follow.

You'll learn all the fundamental skills involved in this high-energy sport and you'll quickly get to grips with how to set up the boat for a corner and smoothly execute a turn. All of the lads will be timed in this intense head-to-head competition and the well-earned winner will get pride of place. Both the winner and the runner-up will receive an award and the chance to take some champion photos. Gentlemen, start your engines!