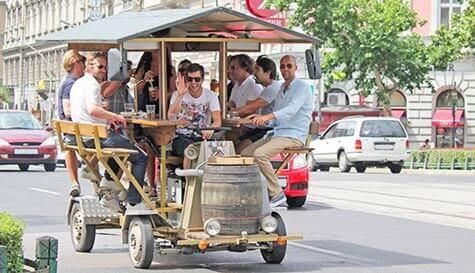 Pour, pedal and take the pilsner out of the groom!

If you're going to take to the (not very) mean streets of the Czech capital then our Prague stag do beer bike is definitely the way to do it. It also has the added bonus of being the perfect cover story and answer to any awkward questions when you get home;
"So what did you get up to then?"
"We got some exercise, did a little sight-seeing in Letenske Sady Park..."
You don't have to mention the fact that it was all done on a bike while drinking vast amounts of gorgeous, perfectly chilled Czech beer.
And it really does combine all those things which makes it the perfect way to answer all those age-old stag do conundrums "I don't want to leave the pub, I can't stand here and drink all day but I do want to hang out with the lads..." The beer bike allows you to do all of the above without ever being more than an arm's length away from your drink. This is absolute stag do genius in full swing!
We'll arrange for our lovely female host to meet you at your accommodation and show you how to get to the beer bike. You'll then get to cruise around the area of Letenske Sady Park while sharing 30 litres of beer each (served in half-litre glasses). Our Prague stag party beer bike is the perfect way to spend a sunny day with the lads.