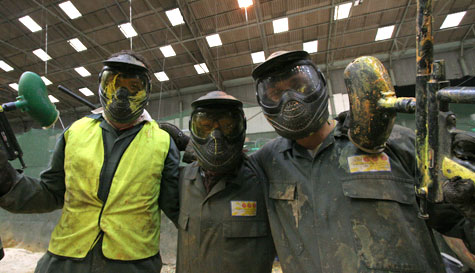 With a course laid out and slightly reminiscent of The Walking Dead our superb Prague stag weekend paintball site is a chance to put the guys to the test and find out if they're as deadly as they think.
While they might think they're a bit handy on Call of Duty how will they cope when the paint starts flying and they have to have real physical accuracy in order to take out the opposition with extreme prejudice and not a moment to ponder about whether they should actually take out the other teams' captain when it's the groom (of course, in fact, you should shoot him more!!!).
The arena covers 1000sqm and has nine separate rooms to contain, control and nullify the enemy. No mercy, no prisoners and no whinging about your hangover, you'll need to man up and be prepared to take one for the team. You'll try a number of different speed and strategy games before sitting down to five celebratory beers (assuming, of course, you were the victors).
Each stag will start with 200 free paintballs but you can upgrade to include more ammo so you can rain multi-coloured death down on your opponents in a Jackson Pollack of pain. "Yeah, I'm gonna get artistic on yo ass!"
So get set for the ultimate stag battle on your Prague stag do.