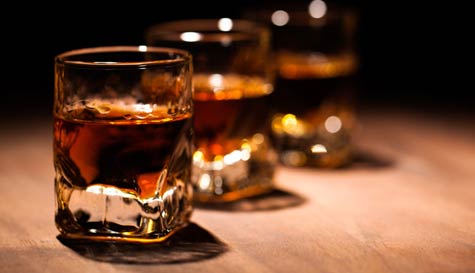 If you're fans of the old amber nectar then this is the perfect chance to sample five superb and varied tipples. You'll be led by our local guide who will be without you throughout the session.
The activity takes place in a popular bar in the heart of the city centre and Prague Old Town. Each sample will be 2cl and the whole session accompanied by local bar snacks such as;
Fried mozzarella
Roast beef
Grilled eggplant with blue cheese
and more...
It's fair to say stag parties are known to enjoy the odd drink and if the groom and his friends are fans of whiskey then this is a great activity to broaden their taste horizons.
Stag Part QI
The name 'whiskey' comes from the Gaelic 'uisce beatha' - meaning water of life.
The name 'Whisky' (with no 'e') comes from Scotland, Whiskey is made everywhere else. Scotch only refers to Scottish whisky.
Whiskey uses exactly the same basic ingredients and process as making beer, minus hops but is distilled two or three times. Many Bourbon whiskies still use the hops.
The oldest bottle of whisky according to the Guinness Book of World Records is over 150 yrs old and sold at auction for £14,850.
Scotland exports more than 2,000 bottles of whisky every minute!
Whiskey stored in barrels evaporates at a rate of 2% a year. This invisible loss is known in the industry as 'the angel's share'.
According to the experts whiskey never goes off. "If you have a bottle that is unopened and you keep it out of direct sunlight it can keep indefinitely." - Brian Nation, Master Distiller at Jameson Irish Whiskey.
Owing to the length of the aging process whiskey needs to be kept stored for a long time before it's ever bottled. That means there are hundreds of thousands of barrels sitting around the world right now just doing nothing.
Jack Daniels have over 2 million barrels of whiskey again at any given time.
When whiskey is distilled it's completely colourless. The colour comes from the wood of the barrels during the aging process.