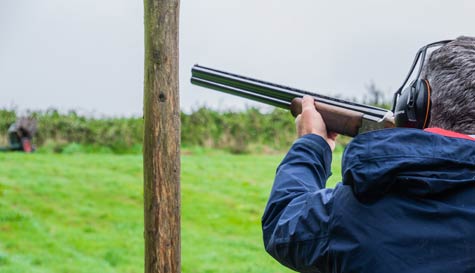 Shooting is an absolute stag classic, the chance to fire a 12 gauge shotgun doesn't come along too often for most guys (try it in your local park or high street and you'll soon find yourself kissing tarmac while many in nice black jackets light you up with little red dots). But for newbies and experienced gun hands, our Reading stag party clay pigeon shooting is an epic chance for some macho stag swagger.

Everyone from your dad to your best mate, your grandpa and your goldfish (if he happens to be free that weekend) can have a go. Take aim and shoot at a wide variety of fast-moving clay targets. Bust away a stag weekend sized hangover or get ready a big party night and get your weekend started with a bang!

The sheer adrenaline rush off giving the command, sighting the target, squeezing the trigger and watching the 'bird' explode into a mist of clay dust is a fantastic feeling. There's also plenty of great rivalry, competition and stag banter.

This high octane shooting activity is addictive, and because it is an old faithful idea for any stag do, it's guaranteed to please all your stags. Our site in Reading is a specialist shooting site so expect nothing less than the best. We'll provide all the equipment so all you need to bring along on the day is a good eye a steady hand and nerves of steel. Game on!