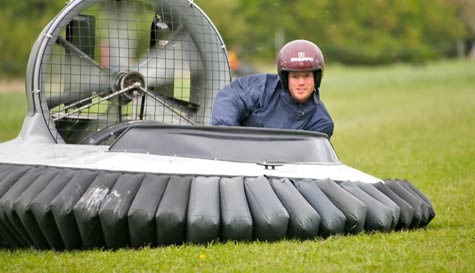 The lads might have been go karting or off road racing, they might even fancy themselves as the next Nigel Mansell or Ayrton Senna, but they won't have any notion of the challenge that awaits them at our Reading hovercrafting centre. These oddball vehicles aren't like any car you've ever driven: they've got no brakes, no traction control and no wheels, and yet they'll hit speeds of up to 50mph.

You'll all need plenty of practice in these epic creations as you master the art of cornering on a cushion of air without spinning wildly off course. Even going in a straight line is a challenge in these things, but after some confidence has been built up the lads will be hurtling into every corner at full speed, shifting their body weight with precision as they shave precious milliseconds off their lap times in an effort to be crowned stag king of hovercrafting.

Even the best drivers will feel like novices in these awesome racers. There'll be wipe-outs by the bucket load until you get to grips with the handling, then it's eye of the tiger time as you go for the win.

Reading hovercraft racing might not be pretty but it's brilliant fun as you try to outpace your rivals in vehicles with all the restraint of Johnny Vegas at an all you can eat buffet. Gentlemen... start your engines!