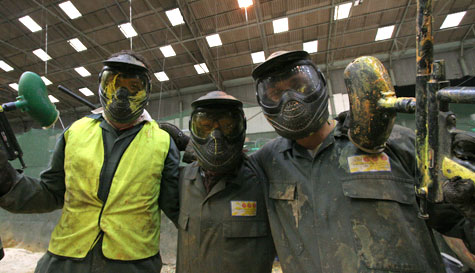 A sure fire stag classic with a brilliant twist, indoor paintball takes everything great about this extreme sport (running around like kids and shooting your mates repeatedly) and takes it inside, away from the snow and rain and enclosed for a more tense and atmospheric battle experience. Paintballing remains a bankable stag winner and the indoor setting only makes it more epic!

With controlled conditions, you'll never spend another moment cowering behind cover in a muddy puddle or find yourself on your backside after slipping on frost in a daredevil run through enemy lines. With the warehouse trapping sound and pyrotechnics better, any additional equipment you buy such as paint grenades or flash grenades will go off with a louder bang and more predictable effects. Even gunfire will sound sharper and more amplified, making the experience as close to the real deal as you'd want to get.

The venue, a massive warehouse, is 30,000 sq ft and contains purpose built gaming zones that are varied for different mission types. With old cars, tyre walls and wooden structures and forts for cover, the venue offers a nice array of cover to make up for the lack of trees and bushes.

It's the perfect place for you and the lads to indulge your inner 80s action heroes by sprinting around, shooting from the hip and skidding in behind cover with as much strength and ingenuity as Jackie Chan or Bruce Willis.