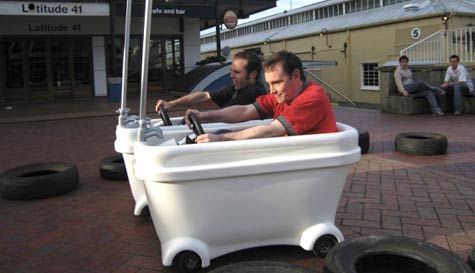 Along with "chocolate teapot" and "solar-powered torch", "motorised bath tubs" just wasn't something that would ever have a place in stag party greatness. Then we discovered motorised bath tub racing, and everything made even less sense than before. Just when we thought we'd raced just about every messed up vehicle known to stag-kind (including Segways and beer kegs) along comes something even more brilliant comes tearing down the tarmac that literally blows everything else out of the water! And it's just further proof of the ingenuity and determination of lads to make their marrying mate look as stupid as possible while giving whatever they're doing a hugely hilarious and competitive edge.

These electric tubs have a grand speed of about 20mph. That might not sound that impressive when you compare it to the high speeds of go karts or quads, but it's 20mph faster than we've ever seen a bath race before. These aren't just tubs with wheels either, capable of reversing and steering round a complicated track in a timed battle against your mates. Hilarious, bizarre, and very unusual, this is one for a stag do with a difference.

Let's face it, stag dos are all about having a laugh and trying something different and this is certainly "different" however we refuse to accept that this is just "a laugh". This is a stag do, therefore it's not about the taking part, it's all about the winning. So leave your scrubbing brush and rubber duckie at home, go full Vettel jacket and aim for the chequered flag.

P.S. Any stag found humming along in the bath to their favourite Celine Dion track could possibly find they have their mouth rinsed out with soap.