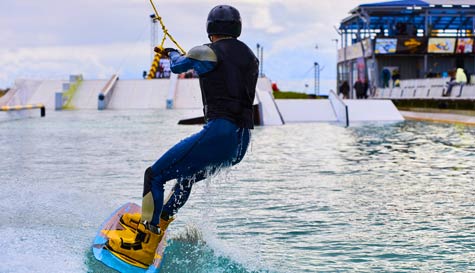 Bloody hell, last night was pretty heavy. You made some terrible drinking decisions, and now you're paying for it. As the lads awake one by one, it becomes apparent that you aren't alone. This stag do needs saving; these are the moments that separate the stag organisers and the stag legends, which will you choose to be?

Wakeboarding in Reading is the perfect way to wash away the previous evening's excesses. It's an adrenaline-pumping, high-speed water sport that'll see you holding onto a cable for dear life as you're pulled by a speedboat with only a wakeboard separating you from the waters below.

If you've tried waterskiing, surfing or even snowboarding you're bound to have a head start in this activity. But if not, there's nothing to worry about. With our friendly instructors offering some expert advice throughout your time on the water, even stags who've never even been bodyboarding before can quickly transform into wakeboarding pros.

However, even experienced surfers might struggle to stay upright here, as our (slightly evil) driver will be making some tight turns and sudden moves to challenge the lads to the max. It'll take all your skill to avoid an unfortunate dunking, and even then you might find yourselves taking an impromptu swim.

Reading wakeboarding is a white knuckle activity that'll see the boys take to the water for some unforgettable wet and wild action. Plus, there's always the chance you'll get to catch the rare sight of the groom flying headfirst into the water.