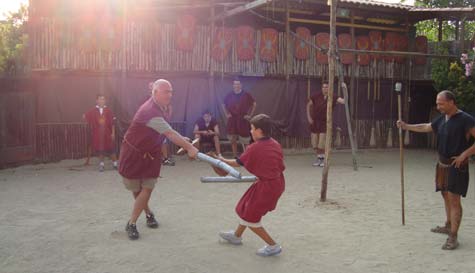 The Gladiator School takes place in the picturesque outskirts of Rome and is two hours of swaggering, combative manliness with a heap of history thrown in for good measure. After a visit to the gladiator museum to learn a little of their ancient history followed the groom and his brothers in arms will learn how to become real-life gladiators. Costumes and weapons are provided to make sure you're properly kitted out, then the instructors will coach you on the ancient techniques to fight like a modern-day Spartacus... "No, I'm Spartacus!"

Please note: you won't be allowed to fight to the death (no matter how much you want vengeance on your hotel roommate who it turns out snores like Summanus, the Roman god of thunder) as the instructors keep things strictly friendly. However, this is a real eye-opener on just how skilful gladiators needed to be.

While this isn't a "Come and 'av a go if you think you're 'ard enough" type activity you'll still get a real sense of who among your fellow stags would be able to cut it in the gladiatorial arena and who couldn't even cut the mustard.