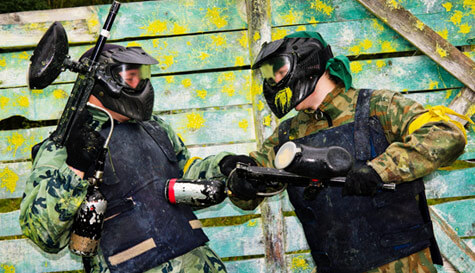 Our Rome stag party paintballing is a favourite among stag-kind for one great reason: it's awesome! An essential stag activity, paintballing combines all of a stag's favourite things: non-stop action, plenty of banter and loads of chances to really stitch the groom up so he doesn't forget the day in a hurry. So team up or go it alone in a competitive session of running around outdoors, stumbling into sheer chaos and shooting your mates.

Our Rome stag party paintballing allows everyone to indulge their inner 80s action hero. Tool up with pinpoint-accurate, semi-automatic paintball guns capable of giving any stag a Dulux makeover in a matter of seconds. Whether you prefer the one-man-army approach of a Schwarzenegger character or the covert, gung-ho guerrilla tactics of Rambo, you can play however it suits you.

Separate the Xbox heroes, veterans on the virtual battlefields of Halo and Call of Duty, from the real warriors. See who's got what it takes when the paint starts flying and the only way out is on the receiving end of a high-velocity paintball bullet.

Make sure to keep a few paintballs in your hopper for one last round of 'shoot the stag' before your session is over. Give him something bright to wear so you land every last shot.