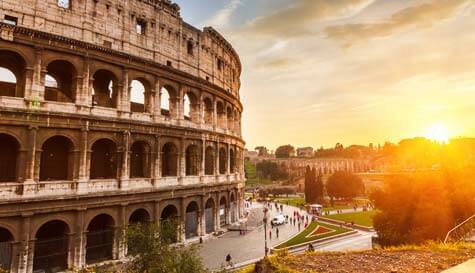 The Italian capital has some truly epic nightlife for sure, there are big clubs, cool bars and seriously sexy ladies. But during the day, it'd almost be criminal not to experience the fantastic historical sites that this phenomenal city has to offer. And before you cry 'boooooring', may we remind you that Rome was once the heart of the Roman Empire, and any fans of Russell Crowe flick Gladiator are sure to be amazed when they see the ancient architecture up close.

But we get it; paying to get into the best museums can get pretty pricey, but we have the solution. A Rome sightseeing pass is the ultimate ticket to the city's greatest and best historical attractions. With this nifty pass, you and the lads will be able to walk straight into a load of museums including:
Accademia Nazionale di San Luca
Museo della Repubblica Romana e della Memoria Garibaldina
Museo Bilotti a Villa Borghese
Museo Canonica
Museo delle Mura
Museo Napoleonico
Villa di Massenzio
We'll give you the choice of 48 or 72-hour passes, which will give you free use of public transport in the city (which would prove handy on a big night out) as well as free or discount access to museums, archaeological sites and visitor centres. If you're planning on taking a trip to the world-famous Coliseum on your Italian weekend, then this awesome pass will take you and the lads right to the front of the queue as well.

If all of that wasn't enough, the first site you enter with our Rome sightseeing pass will come absolutely free. With so many incredible and instantly familiar landmarks, this really is the best way to make the most of this fantastic city. When in Rome and all that...